Poznan is a neat, comfortable, green city with its history, character, peculiar climate and coziness, and aesthetic combination of old and new. Even though the town is not very touristy, there is something to see, where to walk and what to do for at least a few days.
It is quite large: a little over half a million people population. However, it's compactly located, and you can reach almost anywhere walking within an hour. It's very bike-friendly and has many bicycle roads. There are many comfortable places where you can spend an evening, day off, visit an exciting event, or walk. Each area has a unique climate and "Easter eggs." Many of my friends, living in different parts of the city, are sincerely convinced that their district is the best.
Like all big Polish cities located in the west, it feels how neighboring Germany influenced it. It's recognizable in the architecture, the strong entrepreneurial spirit, and some thrift.
A significant benefit of starting the journey from here is a good location: strictly to the west – Berlin (270km), east – Warsaw (309km), north – Gdansk (336km), south – Wroclaw (183km).
In my opinion, the best way to enjoy the city is to get used to the role of local people, not trying to be surprised, but simply enjoying the slow flow of life. For tourism purposes, I recommend Poznan as a "city for the weekend."
Map of the city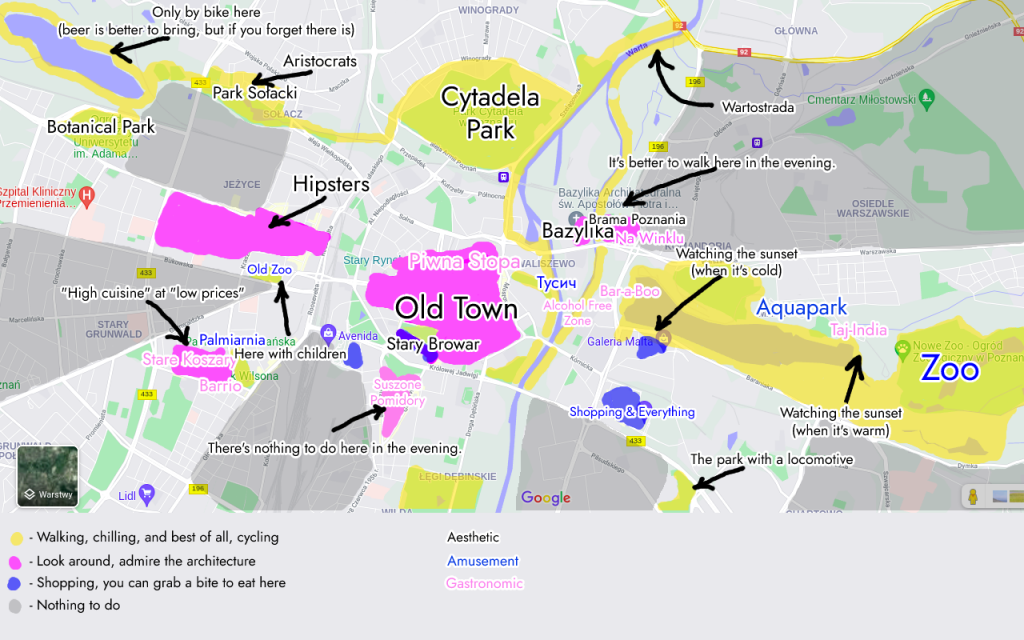 Basic information
Currency: Polish Zloty (złoty, zł, PLN)
Population: more than 520000
Visa: Schengen and it is important to check the current restrictions related to COVID
When is the best time to come? I think from May to September, if you like to walk through the streets and parks. If you want to visit museums and restaurants, then no matter when to come. From Oct to May, the temperature is between -5C and + 10C, and all the fun happens indoors when the rest of the year, there are many outdoor events.
What do I have to take with me? Good mood will be enough.
What is the best way to get from the airport? The bus runs directly from the terminal. Tickets are either on the bus or in the application Jakdojade (Play Market, Apple Store). The app is a must have, cause it helps build routes and use public transport.
What's the best way to move around the city? The city is small, so best way is to walk, but you can also use city bikes (to use them requires installed app and 20zł in the account), scooters Bolt, Lime (requires installed app and funded account). You can, of course, also use public transportation either.
How do I call a taxi? Use Bolt or Uber.
What travel SIM card to buy? European operators should work without roaming. You can buy a SIM card at Zabka, but better do it in a specialized store like (Play or Orange), they will help you register and activate it (you need a passport for that). In any supermarket there are operator stores, and Poznan is famous for high density of supermarkets.
Can I pay with a card everywhere? Poland is a cashless country, cash is needed in very rare cases.
Can I drink tap water? Yes, you do. A distinctive feature of the city's clean water control, is a cyberpunk hybrid of mussels and technology
The main supermarkets for food? Biedronka, Lidl, Carrefour – on weekdays and Saturdays, on Sunday and holidays you can buy food only in small stores and most popular network is Żabka (spectre of products is quite limited).
Do people speak English? With high probability in the service sector you can speak in English
What do you need to see and try? You need to walk a lot, look around, try to feel the spirit of the city. In the mandatory program, I would recommend to include a tour of the old town, together with tourists at 12am watch how goats are beating each other, visit the Cathedral on Tumsky Island, buy in Poznania, watch Stary Browar, eat Rogal świętomarciński, https://lifestyle.newseria.pl/biuro-prasowe/zywienie/wielkanocne-must-have-,b1087617521. Walk through Jeżyce, eat something there in one of the hipster restaurants, take selfies in front of the Freedom Fountain.
What to watch out for? Bad weather. If there's no sun, that's half of the issue, but if it rains, it gets nasty.
How much does one doner kebab cost on average? 15PLN ~= 3.28EUR ~= $3.8USD
The main route of a tourist
Old Town
You can start the tour of the city from Old Brovar. A beer factory rebuilt into a shopping mall with stores, offices, a movie theater, and cultural spaces. It's build by the the principle: 50% culture, 50% commerce and it still follows this rule. There are many events, concerts, exhibitions and workshops. Winner of many Polish and European architectural awards, it's one of the most beautiful commercial property I ever seen. The interior is full of "fascinating" details, you can walk around like in a museum.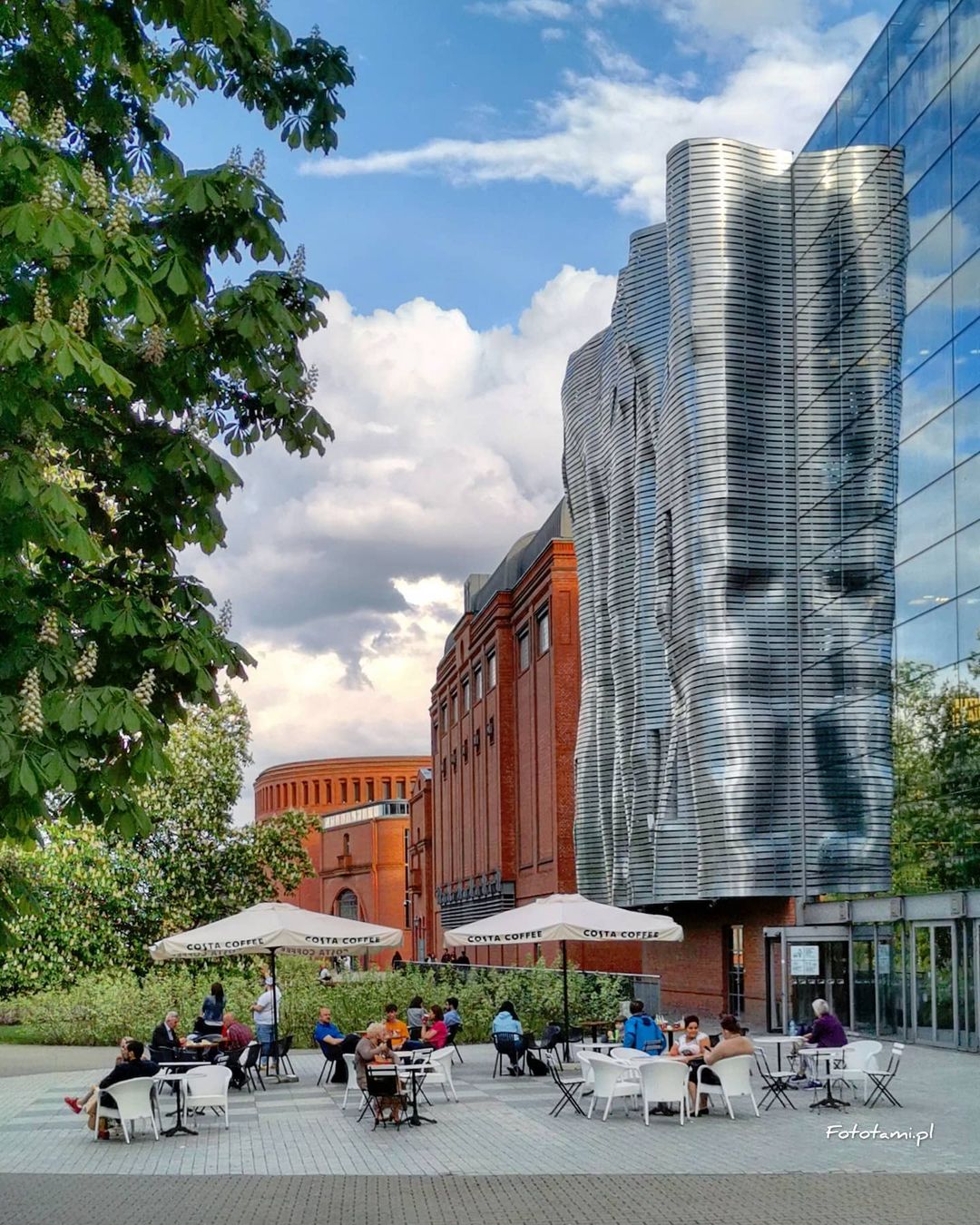 You can eat here in a fancy Blow Up Hall Restaurant or in the cozy atmosphere of Weranda, or pick up something in your taste at the food courts (my personal favorite is the Chinese food next to McDonald's, but be careful with the portions, they are XXL by default).
Further, moving along Połwijskiej Street, we go in the direction of the Old Market. There you can look at the facades, see the "goats" (the symbol of the city) on the town hall. Mechanical show takes place every day at 12:00.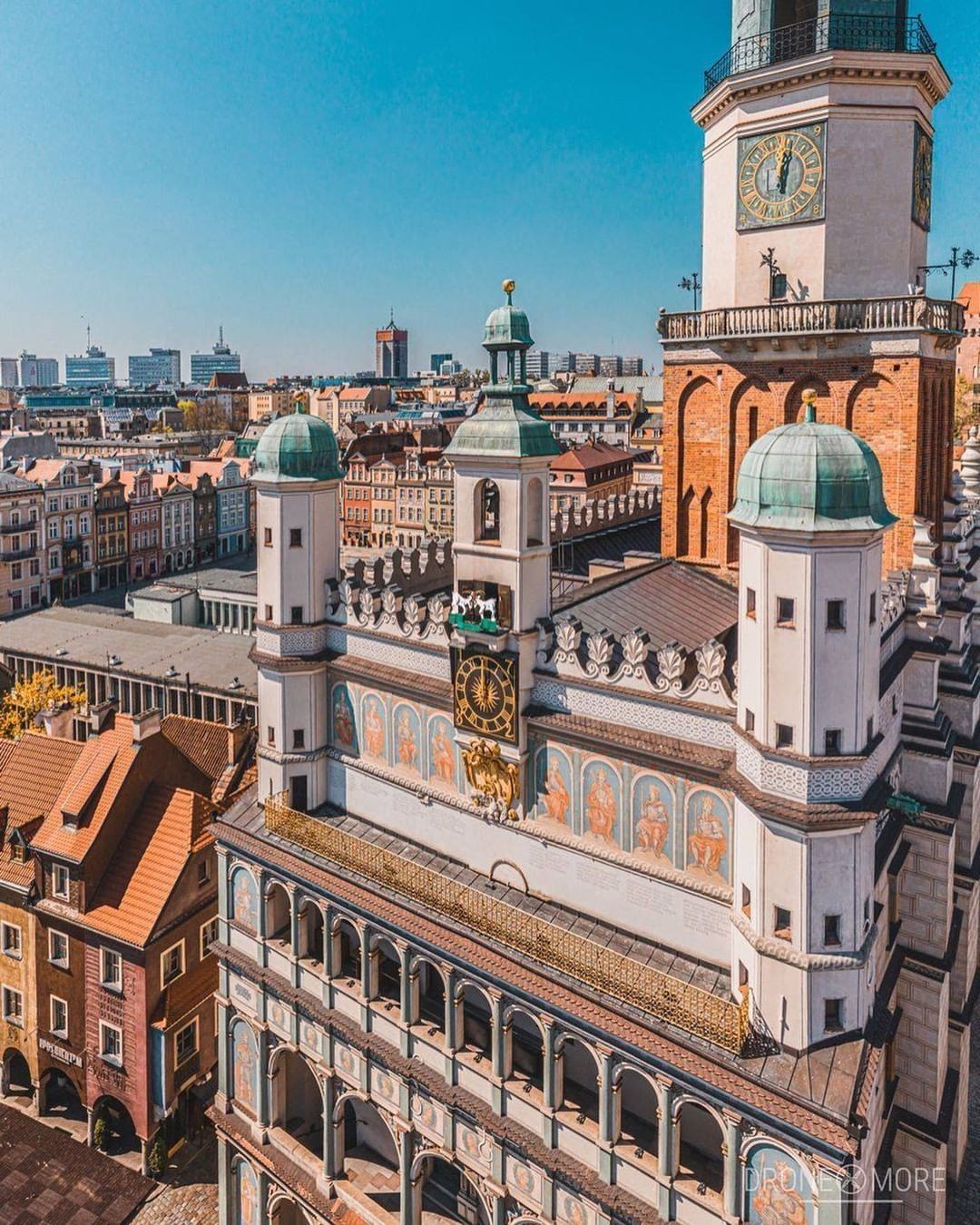 The Basilica of Mary Magdalene and St. Stanislaus (Fara Poznańska) is right after the Old Market. If you're lucky, you can catch organ music concert here at 12:15 on Saturdays and Sundays (you can always check the schedule at website).
It is worth to try out a local culinary treat – rogal świętomarciński in one of the coffee houses in the Old Market. If you'll like it, make sense to visit rogal's museum, you can listen a story behind it, how it's related to the city and even will cook it.
From the Old Market we move towards Freedom Square (plac Wolność), with its main attraction, the Freedom Fountain. Selfies here, is a part of the typical tourist program. From this place you can see another city's symbols – Okrąglak. Right after Okrąglak located Kolorowa, if the line is not too long, you should definitely try the ice cream here.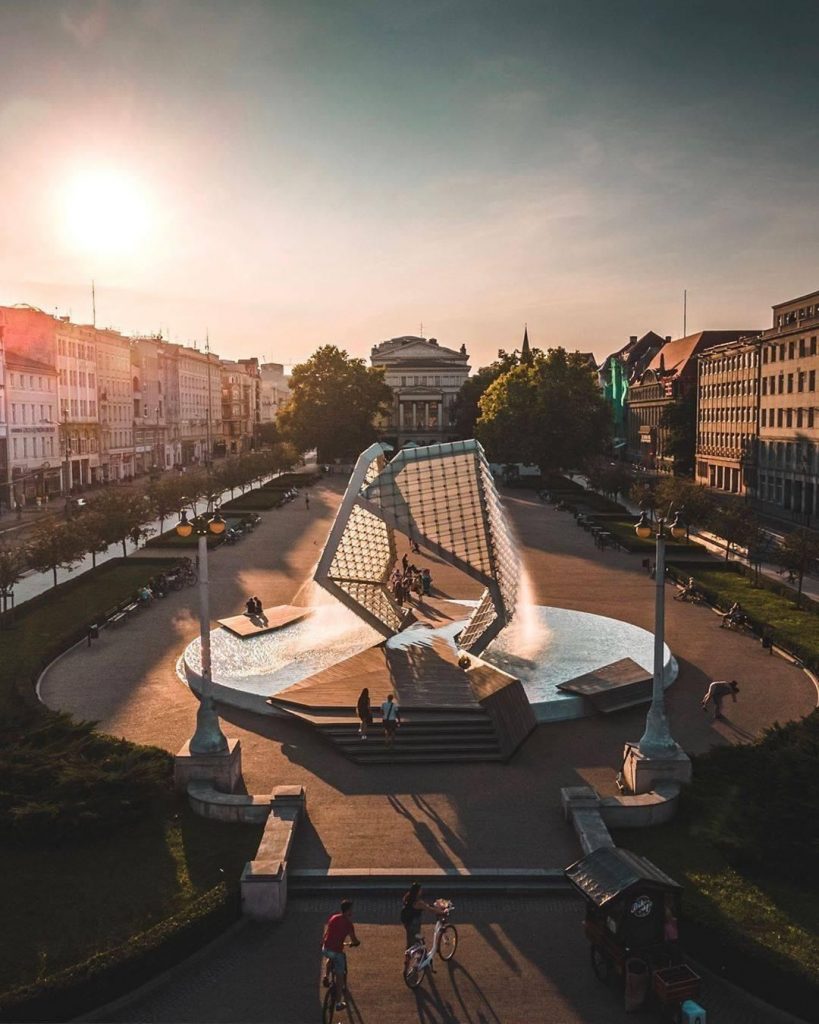 Painting lovers can go to the Muzeum Narodowe, just behind the fountain. In the museum, the main value (by my non-professional opinion), is not Claude Monet's painting, but mind-blowing paintings by Roman Opałka. He dedicated all his life to time painting.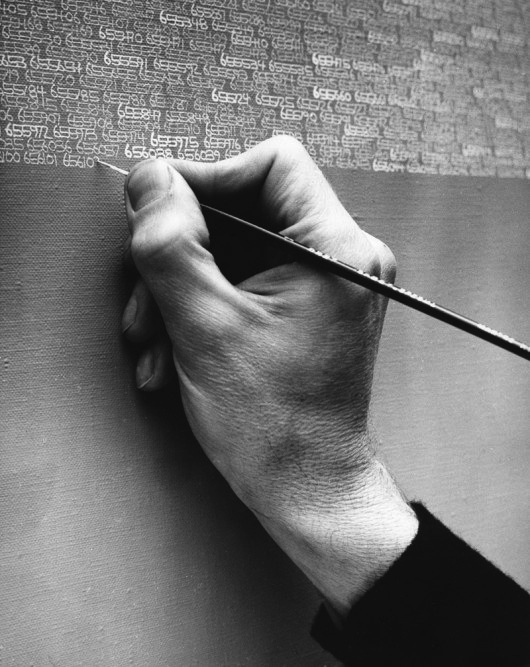 Just in case, if you would like, you can visit the museum virtually: old part, new part.
From the central part of the city, it is worth walk in the direction of Jeżyce district. This is the old part of the city, which is gradually coming to life, thanks to young people and constant renovations. There are a lot of institutions with great food, a peculiar atmosphere and the amazing architecture.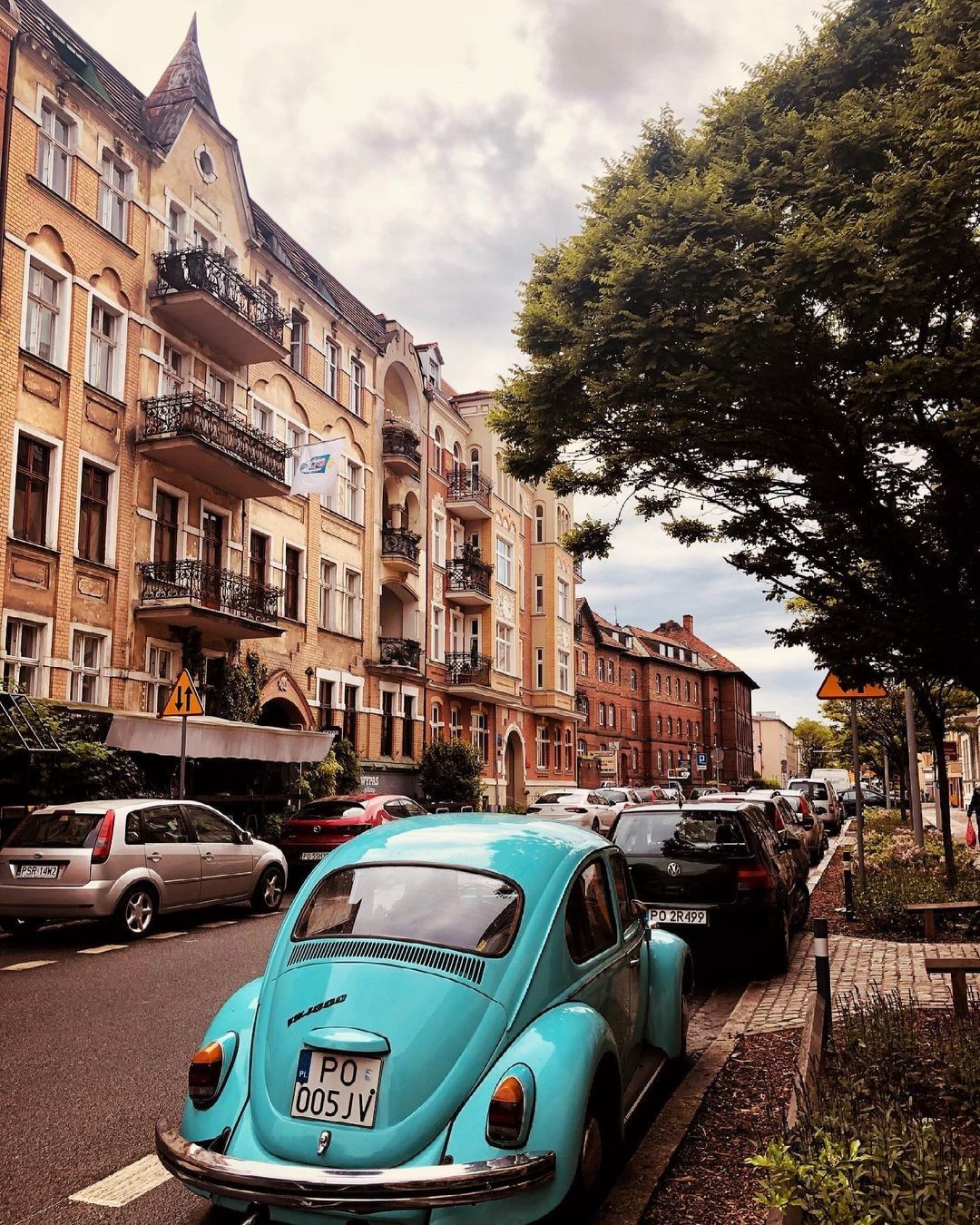 Cathedral
The lullaby of the Polish statehood, and the place "where it all began". For those who want to feel the history of the formation of Poland and the city, you should first visit the modern, multimedia museum Brama Poznania (cube building in the photo below), and then look at the island and the surrounding area.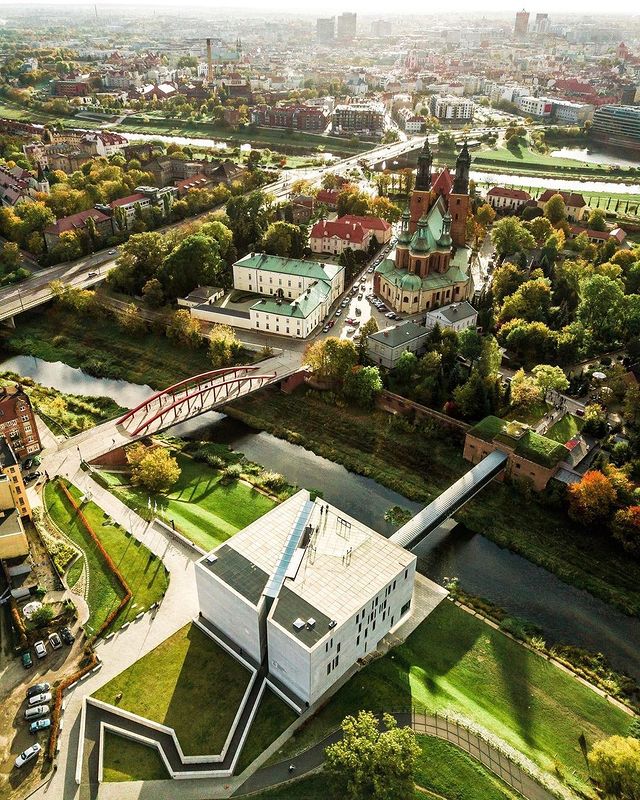 Furthermore, Poznan is famous for murals and graffiti. "Pan Periscope", the image of the local Benxi, a one-eyed trumpet looking at the city from hundreds of walls.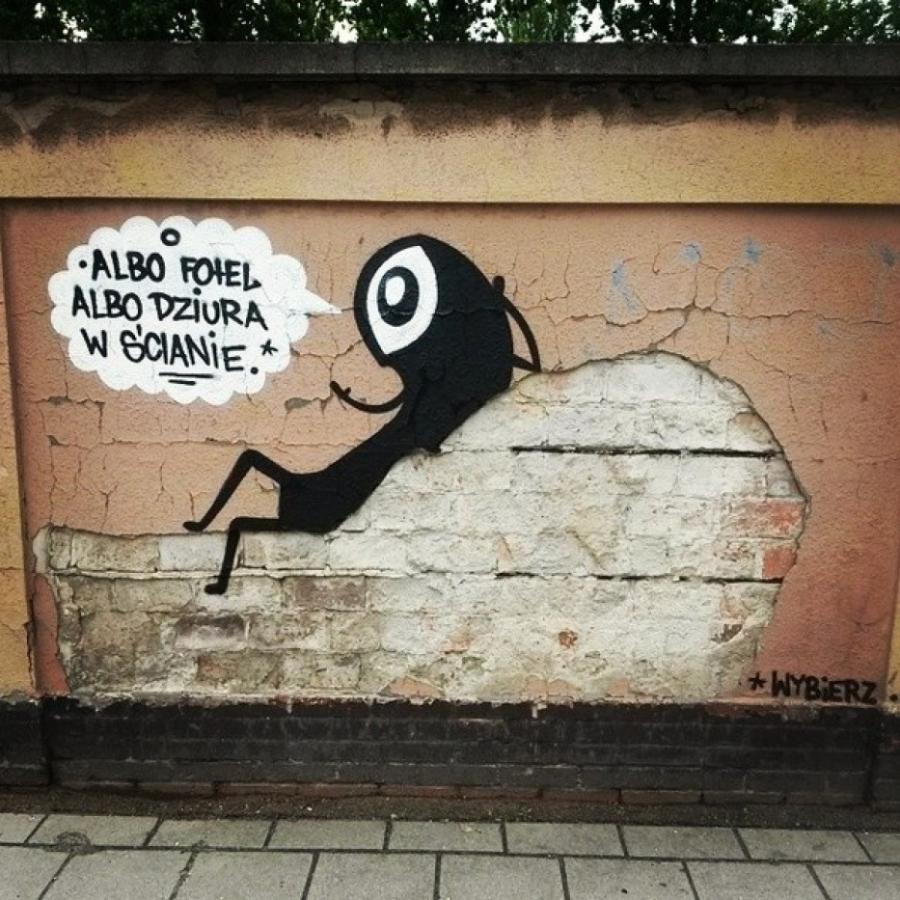 Not far from Bramy Poznania, you can take a photo of the most popular, the Poznan Mural, which reproduces the historical view of a part of the street, a must-see for all tourists. In the same house, but on the other side of it, located Na Winklu, the place, where you must try pierogi z pieca.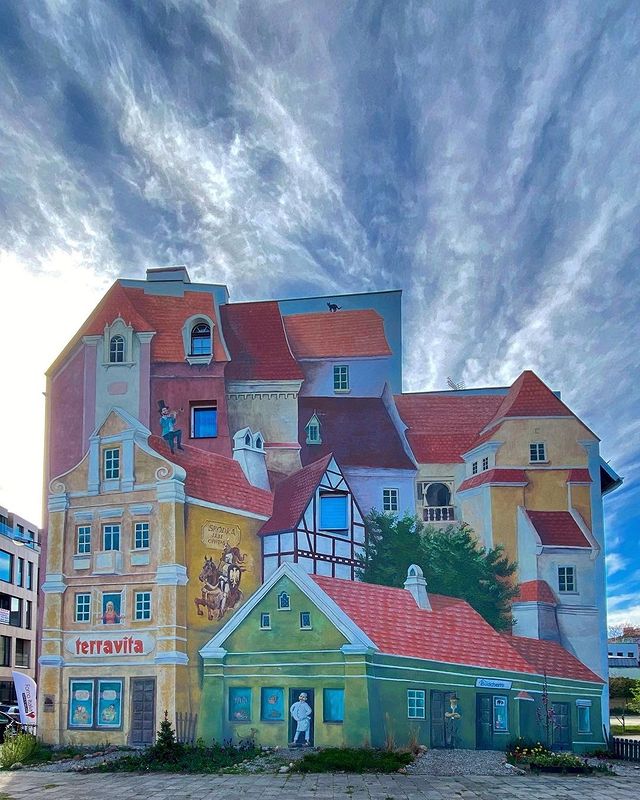 "Non-tourist" routes
Dozens of events (concerts, performances, sporting events, workshops, etc.) take place every day, most of which are announced on the home page of city portal.
Parks by bicycle or on foot
Poznan is a very green city. When it's sunny and you would like walk around and chill on the grass, here are many places where you can go. The great location to start is Citadel Park. This is something like the Champs-Elysées in Paris or the Tempelhof in Berlin, but of course, it's quite different. Instead of the Eiffel Tower, there is a museum of military equipment, remnants of the fort walls, monuments and modern art objects. One art object and favorite spot for selfies: the Unrecognized (Nierozpoznani). Yes, don't wonder, in the city you can find all variations of using the word "poznan".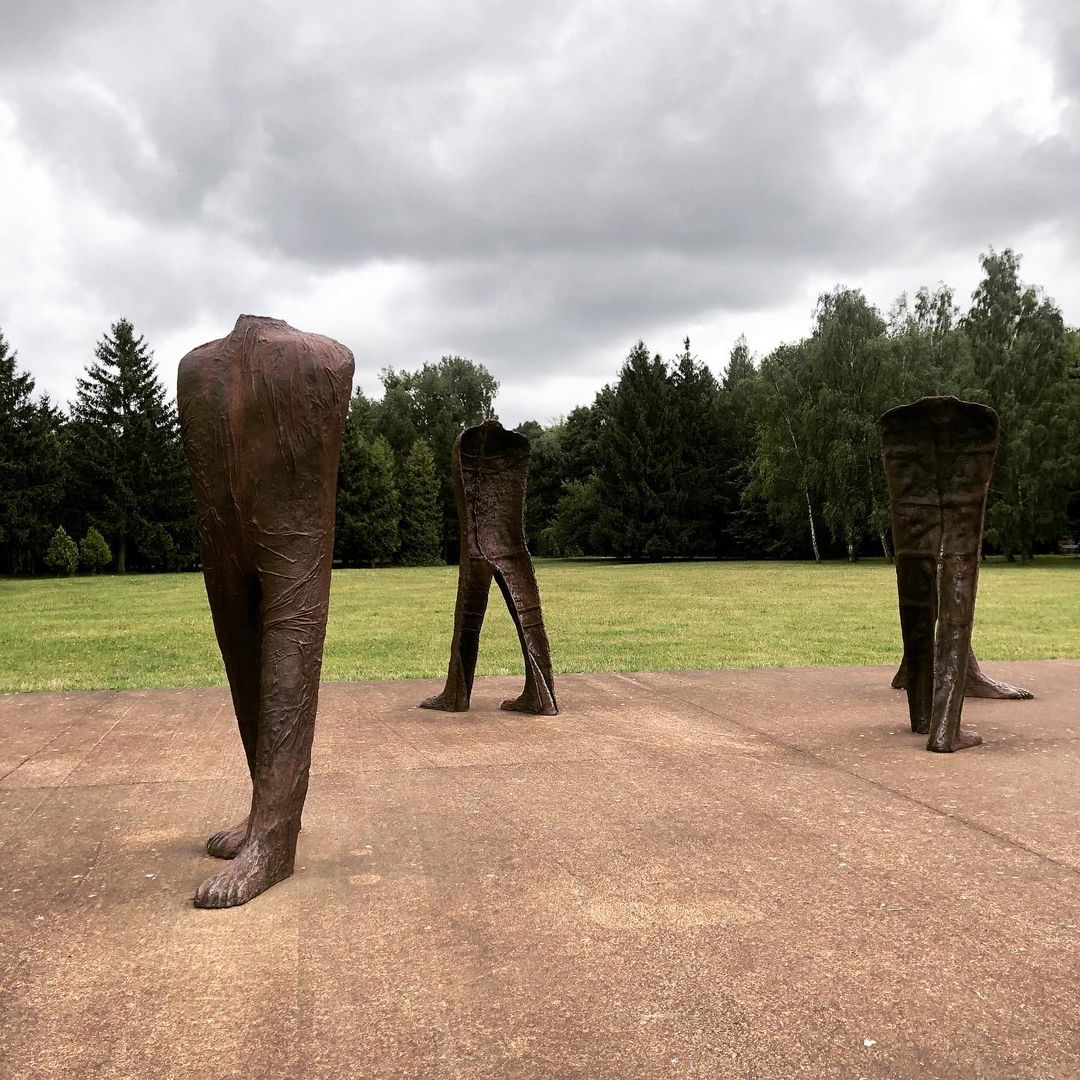 If you continue walking through the parks, from the Citadel through Adama Wodiczki Park, you can get to Sołacki Park, which organically, in the style of English parks, combines landscaping and nature. There's also a neat church of St. John, and mansions which look rich and expensive after more than hunder years. Between old luxury villas new constructions looks organic either.
There is a nice place to eat something – restaurant Petit Paris.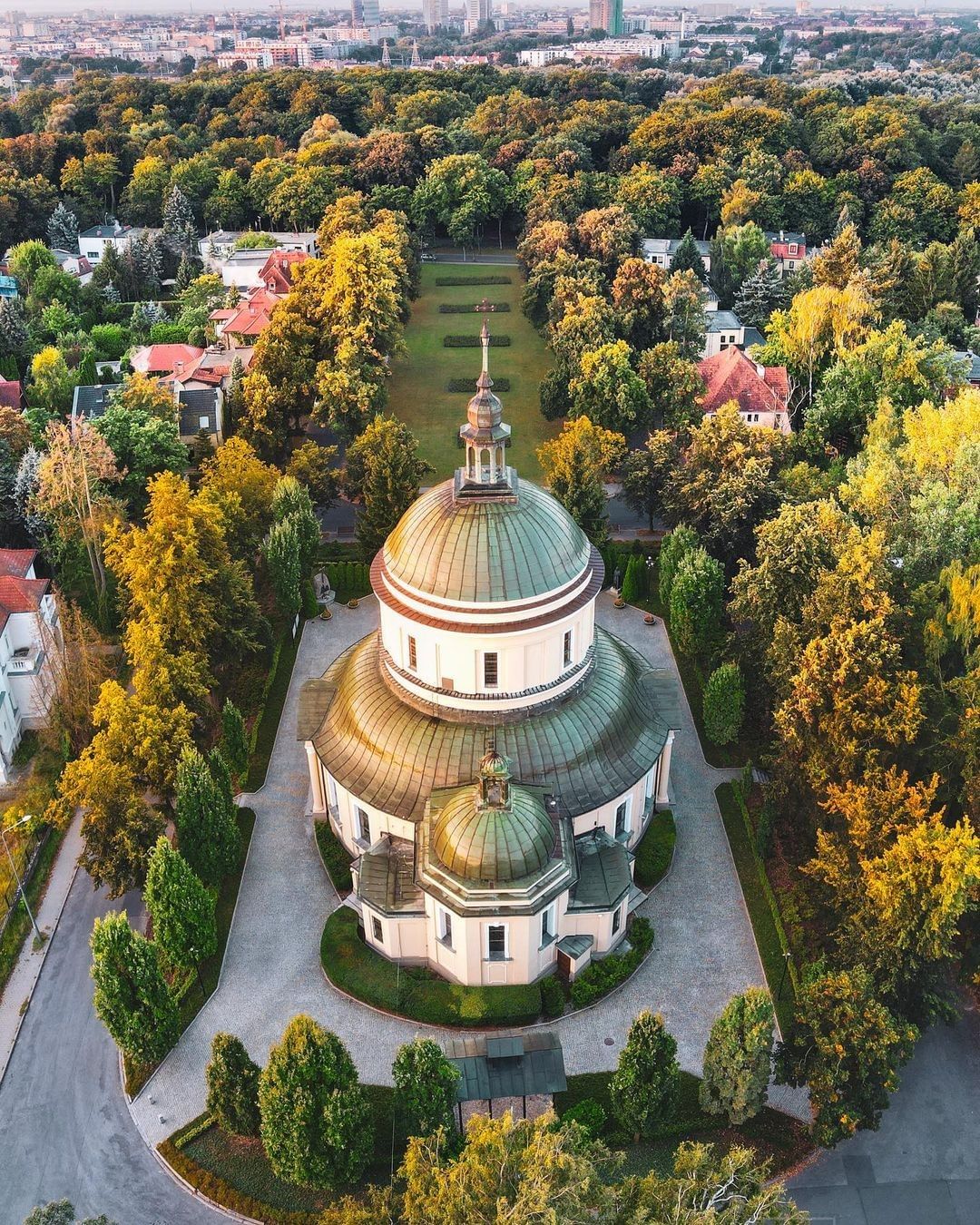 For those who have bicycle there is beautiful route for about ten more kilometers: to Rusałka lake, and then Kiekrz lake.
Zoo
Spacious enclosures spread out over a huge area in which the animals feel comfortable, and if they would like, they can easily get away from the eyes of visitors. You can easily spend a half of a day here.
Citizens know the animals by name, elephants take part in flash mobs, and when something happens to one of the animals, they demand an investigation and punish responsible.
If you are with children, I recommend come to zoo on a real mini steam train (Maltanka) starting from Malta lake.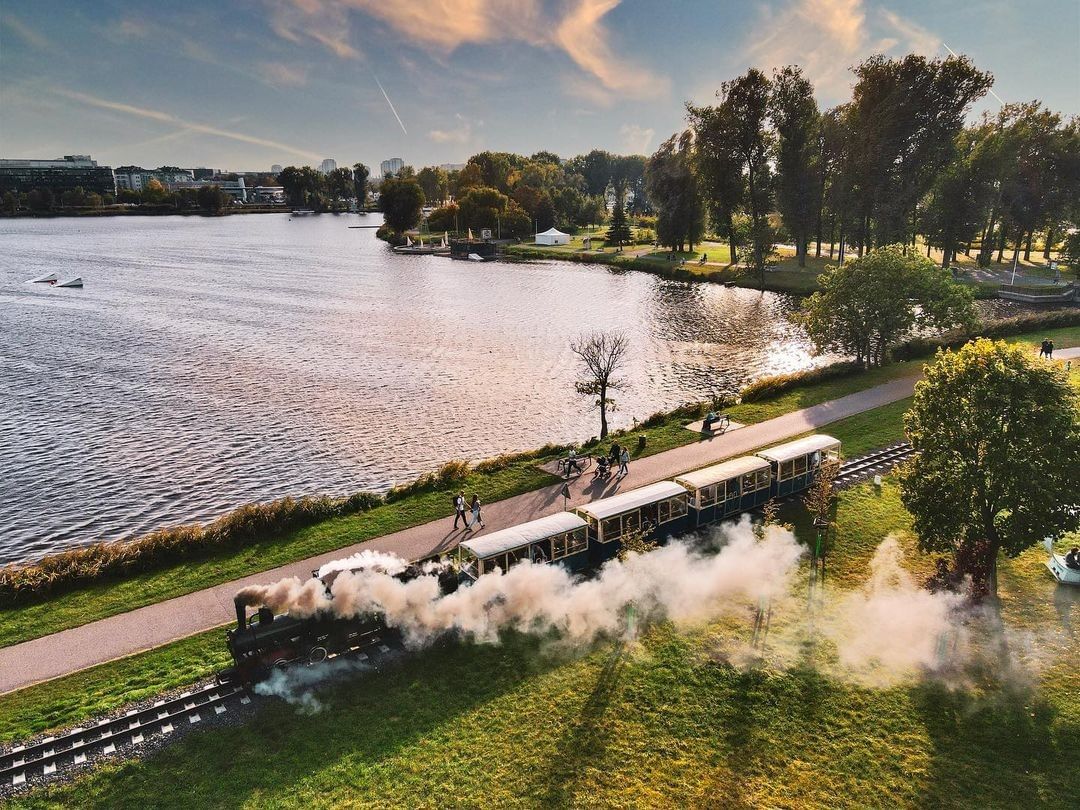 Termy Maltanskie
Aquapark. Classic set: slides, pools, jacuzzi. Thanks to the thermal waters, two swimming pools go directly to the street and regardless of the weather and season, the temperature in the water is about +35C. The outdoor pool offers views of the city and lake, so it makes sense to schedule a visit for the evening. Plus, on weekdays, after 7pm there are discounts.
There is an additional areas with 13 different saunas, a freezer, for contrast, relaxation zones, SPA. Highly recommend. A visit to the sauna area must be purchased separately from the water park, and I recommended this as two independent events, it's quite different types of activities and in different mood.
For those who decide to visit, you need to be prepared for the fact that you have to be naked, wrapped in a towel or bathrobe (you can rent it at the reception).
Palmiarnia
A small tropical corner in the center of Poznan (about 4500 square meters). It is especially popular during the cold season. Children are fascinated by the fish, which are not only shown, but you can also touch and feed them. There is a coffee shop with desserts.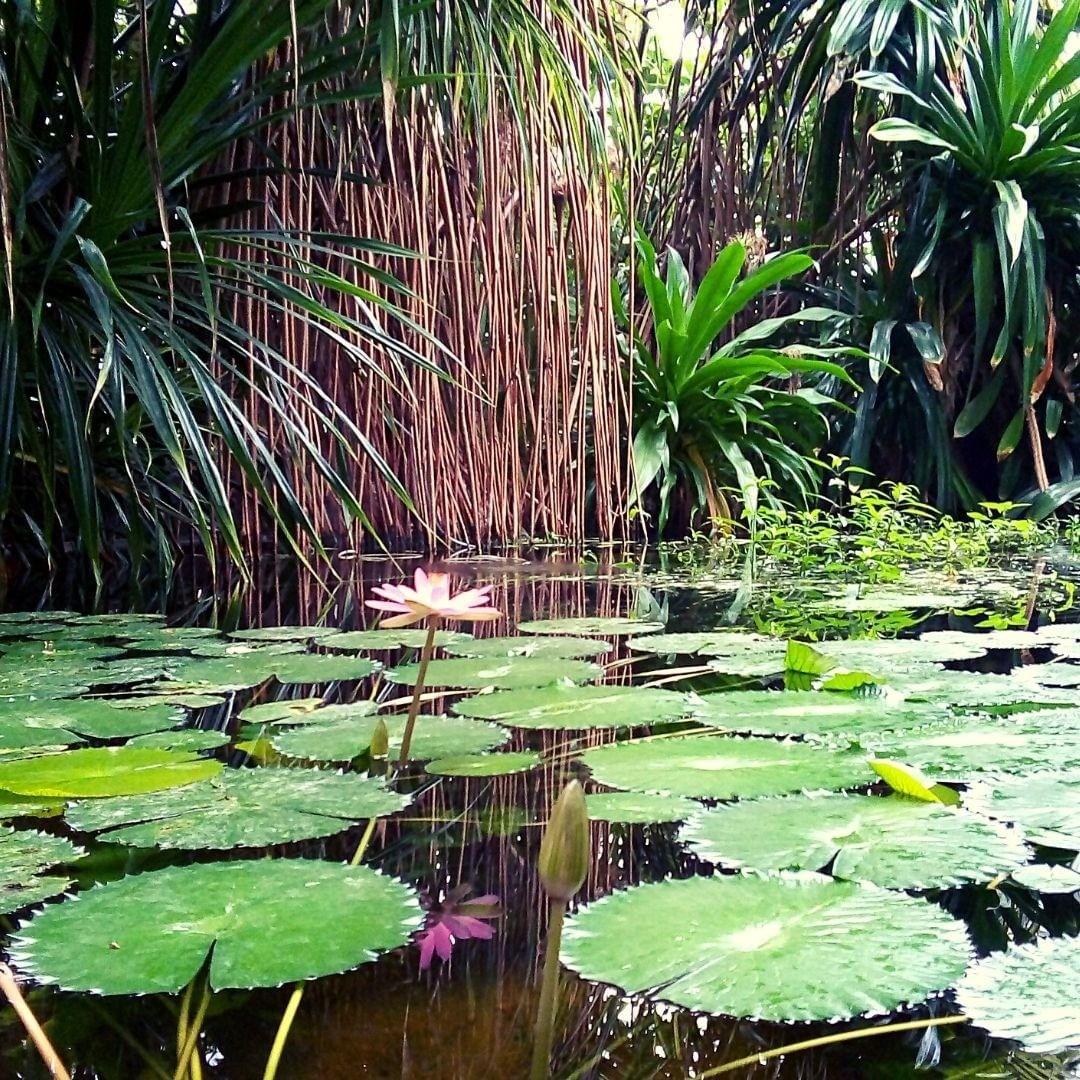 Where to live?
Poznan is a compact city, on the one hand everything is close, on the other hand if you want to see a lot, the attractions are concentrated in the center, or approximately equidistant from it. So it is better to stay closer to the center. There are a lot of standard hotels with predictable quality of Novotel, Ibis, luxury: Blow Up Hall, Andersia, City Park Hotels, an architectural highlight of PURO Hotel, a lot of hostels and offers on AirBnB. I can't give any specific recommendations.
Where and what to eat/drink?
In addition to the classic Zurek w chlebie (sour soup with at least two varieties of sausage), you can try a classic Poznan dish – pyry z gziekiem (potatoes with curd and greens), pierogi (dumplings). In general, you can go to any institution, and it will be good, a large dispersion of prices will not be either. Below, I will try to list the particularly bright spots.
National cuisine
Wiejskie Jadło – Classic Polish cuisine
Na Winklu – Polish coisine has a very reverent attitude toward dumplings, but in this place they are brought up to the level of restaurant cuisine. My personal favorite are dumplings baked in the oven with mozzarella and dried tomatoes
Modra Kuchnia – A small restaurant with an open kitchen. You can literally sit at a table and watch how culinary masterpieces being created. The owner, who is also the chef, brings elements of "haute cuisine" to traditional recipes. At the very least, I can recommend the duck and cherry.
City Park
City Park is a separate category. There is a hotel, casino, restaurants, stores and Tesla Supercharger. It looks expensive and rich, the prices can be 30-50% more expensive than in average (you can see the prices on the website of each restaurant). The restaurants try to keep up the class, each of them is in one of the top restaurants in the city in its own category.
Jeżyce
Another culinary location is Jeżyce. Probably every city has one of these districts, where an old and unsafe location gets a second life thanks to the energy of new generation who gradually transform the place to the better one. There are a lot of places with craft beer, vegan and Asian food here plus many old beautiful architectural masterpieces.
Wypas – vegan cuisine, my personal recommendation is the Arabian plate
Falla – falafel
Uno – coffee and desserts
A few places I would like to mention separately
Stragan – a coffee shop with passion to coffee, and care about beans selection, roasting, and making coffee
Bar a Boo – best pizza in town, if you come and don't have to wait in line, you're lucky
Piwna stopa – not just craft beers, but carefully selected varieties of liquid nectar from 16 taps, plus, hundreds of bottles to satisfy the most demanding beer fantasies. A chic atmosphere, a crackling fireplace in the evenings when it's cold, a patio when it's warm, a playlist that very often overlaps with my Spotify list.
Where to hang out tonight?
The main fun on summer evenings takes place on both banks of the Warta river, where drinking alcohol is allowed. In particular, I'd like to highlight my personal favorite, the gastronomic and artistic space: KontenerART. On summer there every evening some concerts, jams, standups, performances, and film screenings. There are several bars, food trucks, and a lot of locations where you can sit down and enjoy up the vibe.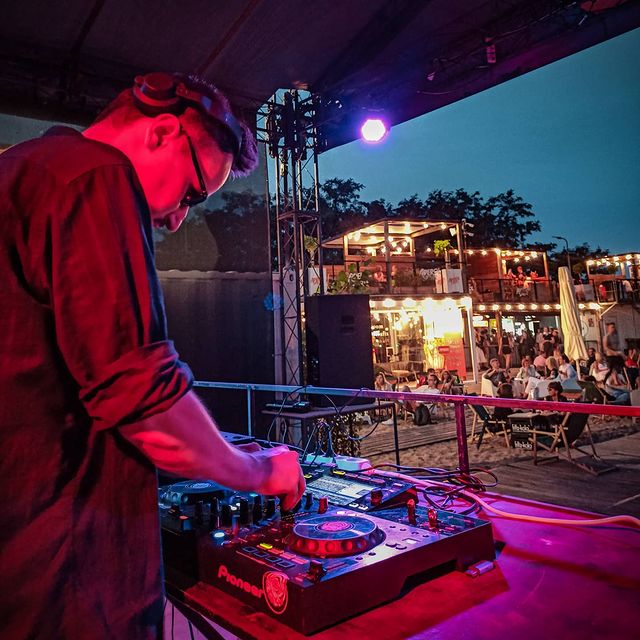 In addition to the KKK along the Warta, there are many other places where you can have a great time: one (beer-aperol-concerts), two (drinks-DJ) или three (beer from a small local brewery near Poznan, burgers).
There are several clubs around the Old Market, but for me it is terra incognita, perhaps someday I will conduct my anthropological study there and in this post more details will be added.